Samsung Galaxy S21 Vs Samsung Galaxy S20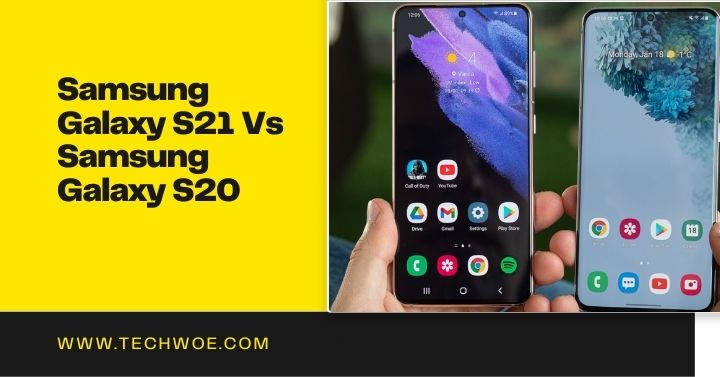 Got to make a tough decision!!??
Once you have set your sight on both the phones and the choice seems impossible. It is the right moment for you to go through these feature layouts and discussions. These can help you in terms of achieving the right balance with the right phone in your hand and the best user experience about Samsung Galaxy S21 Vs Samsung Galaxy S20.
Before going into the features and comparison, it seems right to point out that Samsung just jumped from Samsung Galaxy S11 to Samsung Galaxy S20 and has already marked Samsung Galaxy S20 as their superior customer choice. But in terms of technology and latest release Samsung Galaxy S21 is the state-of-the-art device.
This makes the choice even tougher, but it might not hurt to see some features and comparison of both devices. Certainly, it would be further wiase to draw out some pointers to differentiate and rank the best choice out of Samsung Galaxy S20 and Samsung Galaxy S21.
Differences between Samsung Galaxy S20 and Samsung Galaxy S21
It would be the right choice to compare Samsung Galaxy S20 and Samsung Galaxy S21 based on the technology and user experience for several deciding factors so that the decision can be a well-rounded one.
Starting with the display, Samsung Galaxy S20 has 120 Hz WQHD+ while Samsung Galaxy S21 features a more advanced and UX enhanced FHD+LTPS but same refresh rate at 120 Hz.
Google released Android 11 and Samsung Galaxy S21 comes with it while Samsung Galaxy S20 also received the same update, but the major difference is the Samsung Galaxy S21 One UI 3.1.
Samsung Galaxy S20 came with Exynos 990 7nm Chipset but with Samsung Galaxy S21 there is the option of Snapdragon 875 or Exynos 2100 depending upon the region. But Exynos 990 chipset in Samsung Galaxy S20 has a slightly low performance as compared to Exynos 2100 in Samsung Galaxy S21 but both are power efficient as compared to Snapdragon series. So, it is a better tradeoff and upgrade overall.
In terms of battery capability Samsung Galaxy S20 packs 4000 mAh and Samsung Galaxy S21 also packs 4000 mAh. The major difference is the consumption as Samsung Galaxy S21 consumes more battery and provides less timing overall.
The most important deciding factor about Samsung Galaxy S21 Vs Samsung Galaxy S20 is the camera and video capability.
Samsung Galaxy S20 and Samsung Galaxy S21, both pack 12 MP Main, 64 MP telephoto and 12 MP Ultra-Wide. 3X optical zoom, 30X digital zoom and shockingly 8K 30FPS video recording. The best that there is in the 21st century Smart Phone market.
Both the device, Samsung Galaxy S20 and Samsung Galaxy S21, support 5G connectivity. For wi-Fi networking, both devices support Wi-Fi 6. Bluetooth 5.0 connectivity for Samsung Galaxy S20 and for Samsung Galaxy S21 supports Bluetooth 5.1 connectivity.
Samsung Galaxy S20 features Cosmic Grey, Cloud Blue, Cloud Pink, Cloud White, Aura Red.
Samsung Galaxy S21 features more darker shades such as Phantom Violet, Phantom Pink, Phantom Gray, and Phantom White.
Deciding between Samsung Galaxy S21 and Samsung Galaxy S20
For the final decision, the last deciding factor should be the prices. Samsung Galaxy S21 features lower market price due to competition so it is a plus point.
Samsung Galaxy S20 provided adequate performance but the Exynos 990 was at lower performance mark than Exynos 2100 in Samsung Galaxy S21.
Recommendation is to decide for the most important factor that influence you the most about the smart phone you want. Either it be Samsung Galaxy S20 or Samsung Galaxy S21, the most important factor is the personal satisfaction backed up by technological facts.
So, decide fast and treat yourself with the Smart Phone of your dreams at this Halloween or Christmas but look out for more recent updates in Samsung Galaxy S20 and Samsung Galaxy S21 price fluctuations.
We sincerely hope that you get the most out of your Samsung Galaxy S21 or Samsung Galaxy S20.