Zinc Oxide Market GNW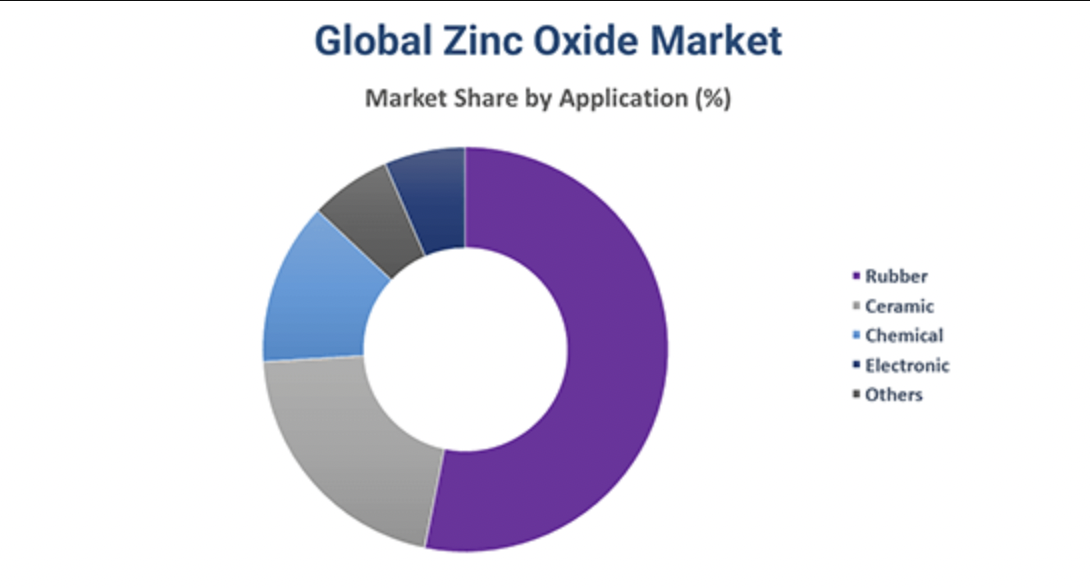 Worldwide Demand For Zinc Oxide Market Will Grow At A Positive CAGR Of 6.4% And Reach A Value Of US$ 7.3 Billion In 2032 | Report by Future Market Insights, Inc.
The U.S. construction market is expected to grow in upcoming years due to the high investment in housing projects, transport, renewable energy, and water projects. Increasing industrial, infrastructure, energy & utility, institutional, and residential construction is expected to boost demand for construction materials. Ceramics is one of the key applications of zinc oxide. Ceramics and its products are utilized in the building & construction industry in different forms such as ceramics tiles, ceramic shingles, and others.
NEWARK, Del: The global zinc oxide market is anticipated to reach a valuation of US$ 7.3 billion by 2032, with sales growing at a positive and restored CAGR of 6.4% from 2022 to 2032. Valued at US$ 3.7 billion in 2021, the market reached US$ 3.9 billion in 2022. Historically, the market observed a sluggish CAGR of 3.3% from 2017 to 2021. Increasing application of rubber across multiple industry verticals and the growing use of zinc oxide in rubber manufacturing and in the production of cosmetics, paints, and ceramics will facilitate the growth of the zinc oxide market.
A primary growth inducer for the zinc oxide market is the use of the product in the manufacturing of rubber. The rising production volume of rubber will boost the consumption of zinc oxide as it is used as an activator for the vulcanization of rubber. This demand is further amplified due to the rising use of rubber in different industries including automotive and transportation. Rubber finds expansive application in the automotive industry for the production of items like tires, hoses, gaskets, roll coverings, crap tubes, and adhesives. Moreover, rubber is in high demand in several other industries like packaging, engineering, manufacturing, and construction, among others. Thus, the high demand for rubber spurs the demand for zinc oxide in the next few years.
Zinc oxide witnesses greater demand as a melting point reducer in the manufacturing of ceramics. Zinc oxide nanoparticles have also emerged as a promising biomedicine candidate, especially for anticancer and antibacterial applications. These aspects have a positive impact on the sales of zinc oxide in the forthcoming years. Again, zinc oxide gains application as a catalyst in various chemical processes such as a sunscreen active ingredient in cosmetics and personal care products, and as an anti-corrosion element in paints and coatings. All of these considerations, along with others, underpin the growth of the zinc oxide market during the projection period.
Key Takeaways:
An advancing automotive sector along with heightened demand for zinc oxide powder will aid the growth of the market in China.
The zinc oxide market in the US will reach US$ 1.2 billion by the end of 2032, fueled by rising ceramic production.
By grade, the industrial category will expand at a CAGR of 6.1% due to its superior physical and chemical properties.
Based on process, the indirect or French process segment will develop at a CAGR of 6.6% owing to its increasing commercial use. 
Competitive Landscape
EverZinc, Hindustan Zinc, Votorantim Group, GHC, Rubamin, Zinc Oxide LLC, Grupo Promax, Weifang Longda Zinc Industry Co. Ltd., U.S. Zinc, and American Zinc Recycling, among others, are some of the key players in the zinc oxide market profiled in the full version of the report.
Leading market players are focusing on expanding their production capacities so as to strengthen their market presence. A few of these participants also employ partnerships, collaborations, mergers, and acquisitions tactics to gain a competitive edge.
Zinc Oxide Market Segmentation
By Grade:
By Application:
Wet Chemical
Indirect
Direct
By Application:
Rubber
Ceramics
Chemicals
Cosmetics and personal care
Paints & Coatings
Pharmaceutical
Agricultural
Others
By Region:
North America
Latin America
Europe
East Asia
South Asia & Pacific
Middle East & Africa
More Insights into Zinc Oxide Market
In its latest report, FMI offers an unbiased analysis of the global zinc oxide market, providing historical data from 2017 to 2021 and forecast statistics for 2022 to 2032. For a comprehensive understanding of the global market potential, growth, and scope, the market is segmented on the basis of product type, application, and region.
According to the same reports, based on segmentation, the indirect process of producing zinc oxide will retain popularity due to its use in the commercial production of zinc. This segment will grow at a CAGR of 6.6%. In terms of grade, the industrial grade will lead the market with a CAGR of 6.1%.
Based on region, the zinc oxide market in China will present impressive growth during 2022 and 2032. The consumption of zinc oxide in this country will reach a value of US$ 1.8 billion by 2032. Factors such as an advancing automotive sector, high demand for zinc oxide powder, and improving economic conditions will shape the zinc oxide market in China. Besides China, the US zinc oxide market will exhibit notable growth. The target market in this country will reach a value of 1.2 billion by 2032. This can be attributed to increasing construction and housing projects, rising industrial and infrastructure constructions, and the growing need for zinc oxide in ceramic production. Thus, China and the US will make considerable contributions to the global growth of the zinc oxide market.
Table of Content
1. Executive Summary
1.1. Global Market Outlook
1.2. Demand Side Trends
1.3. Supply Side Trends
1.4. Analysis and Recommendations
2. Market Overview
2.1. Market Coverage / Taxonomy
2.2. Market Definition / Scope / Limitations
3. Key Market Trends
3.1. Key Trends Impacting the Market
3.2. Innovation / Development Trends
4. Key Success Factors
To Continue TOC…!     
Explore FMI's Extensive Ongoing Coverage on Chemicals & Materials Domain
Rare Gas Market Growth: Shifting preference towards packaged food products is elevating the demand for preservatives. Being a passive preservative, applications of rare gases in the food & beverage sector will increase.
Barium Carbonate Market Type: High demand for barium carbonate in the production of blocks, bricks, tiles, and other materials, which are heavily consumed in the construction industry, is expected to bolster the market growth.
Ethylbenzene Market Analysis Forecast: Owing to the growing support from various governmental organizations, the market is likely to propel to US$ 31 Billion by 2032.
Fatty Esters Market Sale: Growing influence of social media is expected to be a major factor driving the growth of the personal care & cosmetics segment, thereby driving the product demand.
Ethylene Amines Market Value: Growing demand for laundry and detergent products due to consumer awareness of cleanliness and hygiene has pushed ethylene amines market size in surfactant applications.
About Future Market Insights, Inc.
Future Market Insights, Inc. is an ESOMAR-certified business consulting & market research firm, a member of the Greater New York Chamber of Commerce and is headquartered in Delaware, USA. A recipient of Clutch Leaders Award 2022 on account of high client score (4.9/5), we have been collaborating with global enterprises in their business transformation journey and helping them deliver on their business ambitions. 80% of the largest Forbes 1000 enterprises are our clients. We serve global clients across all leading & niche market segments across all major industries.
For more : https://techwoe.com/